My recent kitchen re-do entailed painting the cabinets, swapping out the hardware, hanging a pendant light above the sink, and painting the glass tile backsplash (Yikes, I know! But my home is my laboratory...if I don't try out my crazy ideas on myself first, I'll never know if they're a hit or a miss.)
These "before" photos tell you everything you need to know...it was too much dark wood in too small a space, and it felt kind of oppressive. When we installed the new cabinets a few years ago we were up to our eyeballs in the expense of overhauling the entire house, which was a major "fixer" when we got it. The ready-made cabinets were what we could afford at the time, and were only available in various wood finishes of which the dark walnut was the best choice. Being classic shaker style doors, I knew we could always paint them one day after we'd recovered from the sticker shock of the big remodel.
BEFORE
BEFORE
BEFORE
(If you're wondering about the acid green wall, just know that it was NOT my idea, and sometimes you have to acquiesce to the will of your significant other, especially when he's an architect with design opinions of his own. Don't worry, it's a goner now.)
I knew I wanted to go with a warm grey paint for the cabinets. I'd been inspired for a couple of years by the grey toned kitchens I was seeing all over the blogs and magazines.
UNKNOWN
UNKNOWN
DECOR PAD


It's right for my home, which is a fairly neutral palette of warm greys and ivories with black, caramel and wood tones punctuating throughout. The kitchen is open to the rest of the house, so the visula flow would work well. I could also easily have gone with white cabinets and black hardware because I love that high contrast look...
But I couldn't get over the combination of brass hardware against grey, and I knew the brass wouldn't work as well against the white...it needs a color with a bit of depth to make it sing.
DECOR PAD
So grey and brass it was. I loved the rich, deep charcoal grey and brass hardware like Jenny did on
Little Green Notebook
(inspired by the kitchen above), but I couldn't go that dark since one of my main objectives was to lighten and brighten the space. I chose a taupe-y warm grey tone called Eagle Rock by Benjamin Moore...it's as dark as I dared to go so that the cabinets weren't
too
dark but still had some richness to them to set off the brass.
It was a challenge to find the style of brass cabinet hardware I wanted at an affordable price. I've always loved Restoration Hardware's Aubrey pulls for their utilitarian vibe. At over $10 apiece they're not extravagant, but I wanted to find a better priced option if possible (plus I think the brass finish may have been discontinued?) The answer came, as it so often does, while wandering the aisles of my neighborhood hardware store (I browse the hardware store like most people browse the mall...I can always find some little thing that I want to take home and repurpose, like mason jars for my pantry, little brass key fobs, and the random brass strips I used on my
Hicks pendant light DIY
.)
So at the hardware store I discovered these bright and shiny un-lacquered window sash lifts by National Mfg. for $3.25 a pop. Same exact look as the Aubrey, which I now realize is modeled after these utilitarian window lifts in the first place. The un-lacquered finish is key, because that means the brass hasn't been sealed so it will develop a natural patina over time. No need to worry that they start out bright and shiny...they have a living finish that will change with time and use. PERFECT.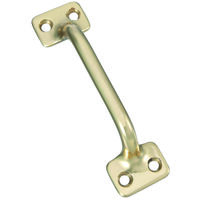 Finding a matching knob proved to be more difficult, since most cabinet hardware manufacturers lacquer their wares and the finish never quite matched the pulls I had. I searched high and low to find a brass knob that would complement my window sashes. Nada. So on ebay I bought a set of scuffed up vintage solid brass cabinet knobs for less than $1 apiece, figuring I could do something with them. It's not uncommon to find these up on ebay...just look for listings that describe solid, heavy, brass knobs...the condition of them doesn't really matter, as you'll see.
Mine arrived looking pretty rough, and it was apparent they had indeed been lacquered, because there were scratch marks on the plastic-y, topcote, which unfinished brass does not have. But they were solid (and heavy!) beneath the scratched finish, so I just need to get them stripped. A pot of boiling water did the trick and the lacquer peeled right off. All I had to do was rub them down with an abrasive kitchen scrubby as soon as they came out of the water, and the lacquer peeled away easily.
The knob on the left has been de-lacquered completely, and the knob on the right has been boiled but not scrubbed yet. You can see how the lacquer coat is already partially soaked away.
I'm so glad to discover that this easy process works for old solid brass knobs...they're much higher quality than most new lightweight and cheaply made brass tone hardware out there. And don't the brass window sash pulls look great with the vintage knobs?