This is it, my inaugural blog post! I've spent years on the other side of the screen as a daily blog
reader
, and over the past couple of years it's been totally clear to me that this was going to have to become a two way street. I've noticed that the blogs I
most
love to read are the ones that take a lofty design inspiration and offer readers ultra-accessible ways to bring good design into their own lives.
Approachable design DIYs with good tutorials, lots of details, and all the nitty gritty "before & after" pictures we love so much (there's just something SO satisfying about a good transformation)...that's what I love to read, and that's what I bring you here on this blog. I've got the content to back it up people, so keep coming back to see what's next!
Without further ado, let's get down to business.
I recently re-did my kitchen by painting the cabinets and the glass tile backsplash. That last part I was very nervous about and did tons of research on which primer and paint to use to try to avoid a total DIY fail. (By the way, my all-time favorite neighborhood paint store in LA is Jill's Paint in Atwater Village. It's run by twin brothers who are just basically the nicest and most helpful people you could hope for, and they truly know their trade. I can call or walk in and ask all the technical questions I want, and they've got the know-how to guide me in the right direction. Support your neighborhood mom and pop businesses!)
So the cabinets (for which I chose a warm grey with brass hardware combo that has been trending hard lately) and the painted backsplash both turned out amazing, and I will be breaking down the whole tutorial step-by-step here on the blog, including how to source affordable un-laquered brass cabinet hardware.
BEFORE
There were just a few other elements I brought into the space to pull it all together, namely a pendant light for above the sink, and a roman shade on the window, both of which I put my own DIY spin on. My loose inspiration for the pendant light was the Hicks pendant designed by Thomas O'Brien.
It's been seen a zillion times in the last couple of years in some pretty spectacular kitchens, but I'm not over it. I love the combo of the black and brass together, especially for my space.
HIGH GLOSS MAGAZINE
UNKNOWN
STYLE AT HOME







However, the scale of the Hicks pendant would have been too much for my small kitchen, plus it was way out of the budget for this little re-do. I stumbled across this $16 brass pendant online and ordered one, thinking maybe I'd love the brass finish, but if not then maybe I could mess around with it. I wasn't exactly sure where I was going with this, but for $16, not a big risk right?
Well it arrived, and the brass finish was really bad...kind of too light in color, and a tad greenish, with brush marks, and just not the rich, true brass look I was going for. So I started brainstorming and I realized that one of the things I like most about the Hicks is that great combo of black and brass, and the way it mixes both luxe and industrial vibes with the gleaming brass and the exposed rivets. I also remembered Amber's black
DIY pendant
project above her kitchen sink, and the way it contrasted against her mostly white kitchen. Love. So it had to go BLACK.
AMBER LEWIS DESIGN


What I had before above the sink was a recessed can light and I didn't really want to have to bring in an electrician so I snooped around online until I found a simple
converter kit
that just screws right into any recessed can fixture and allows you to hang a pendant there instead. Bingo. I picked it up at Home Depot for around $12.
Then it was off to my local hardware store (Baller Hardware on Hyperion in Silver Lake. They also run an art store across the street which means I can get just about anything I need in one stop, bam!) I picked up three little brass strips for around $1 apiece, and some very short brass screws and nuts. The strips come in varying widths and thicknesses and I needed mine to be thin and pliable enough to wrap around the pendant light, and a little less than an inch wide.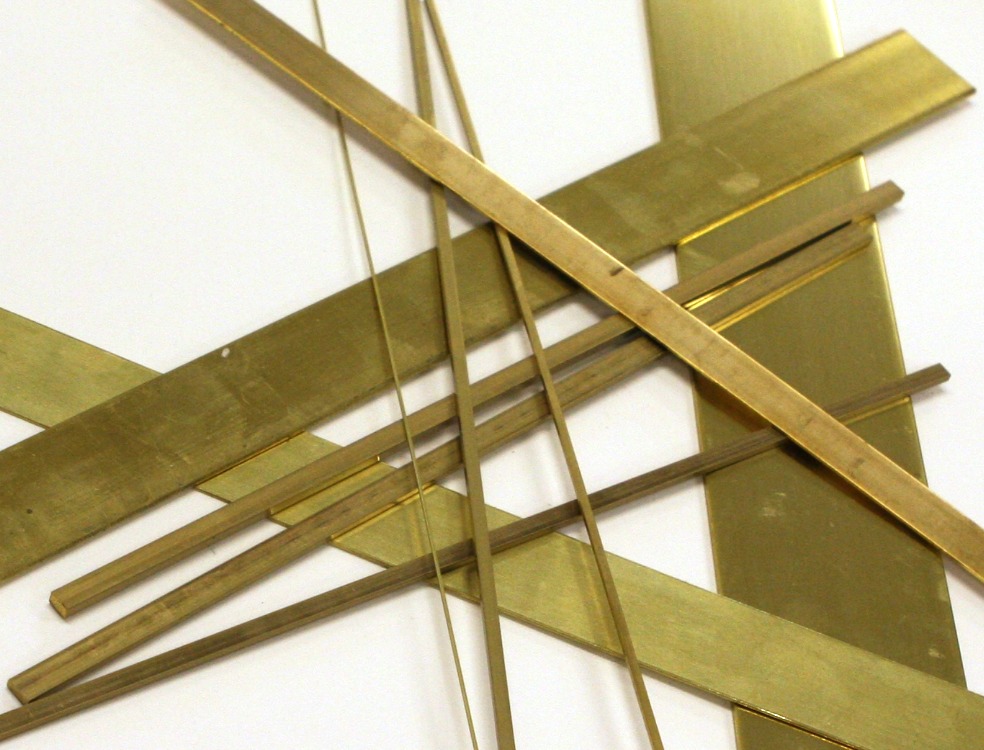 Before painting the pendant I drilled three equally-spaced holes around the rim using my power drill and drill bit large enough to accommodate the screws I bought. Then I sprayed the whole fixture with glossy black spray paint and let it dry thoroughly (I left the inside white so the light bulb has a better reflective surface and puts off more light.)


The next step was to drill holes in the brass strips, trim the ends so that they were just long enough to overlap each other at each screw, and secure the three overlapping strips to the pendant using the little screws with the nuts mounted on the outside. The screw is the only thing holding the brass strips on...I didn't use any glue or anything else.



For the finishing touch I used a tiny paint brush and a little
Liquid Leaf
to accent another bit of the hardware on the pendant, just to tie in the brass tone elsewhere.
And this is the finished product, which I'm really happy with, especially against the black-trimmed roman shade I rigged up for the window (more on that to come.)
In fact for under $20 (or a bit more if you have to buy the recessed can converter) I'm loving it!