This is hardly rocket science and it's not a new idea...many versions of this project have been posted on design-y sites before, but I've had lots of comments on them so I thought I'd share how I made my giant fuchsia bulletins boards in my RBD design studio.
They definitely set the tone for the space, probably more than any other element in there. Part of that is due to the size...when it comes to wall art I'm kind of in the camp of "bigger is better." I love the visual and graphic impact of a giant piece of wall art, be it a photo or a painting or a mood board like these. Even with gallery walls, I think they should usually be floor to ceiling installations, even in tight spaces like hallways...go big or go home. The scale is what makes it interesting. You can check out my Overscale Art and Gallery Wall boards on Pinterest. But I digress...
So my studio mood boards are big, I think around 48x48. I picked up a slightly mottled fuchsia cotton fabric at Michael Levine in the the downtown fabric district (those of you in LA should know that it's a Mecca...and for those not in LA, they've just launched an online retail site.)
I liked that the fabric gave me the punch of color I was going for (it was actually way too bright and overpowering in the room on it's own, but I knew I would cover 70-80% of it with pin-ups to tone it down...so don't be a scaredy-cat.) I also liked that it had just a touch of mottling and variation without being an obvious pattern, so it makes an interesting backdrop.
I ordered these 12x12 cork tiles, and picked up two large corrugated cardboard pieces from my local art supply store...office supply places carry them too...think science fair displays and the like.
I had to piece together the cardboard with some duct tape to get my desired size, and then I glued the cork tiles to the face of it using spray adhesive. Try to fit the tiles tightly without any gaps.
On went my fabric with the spray adhesive...
You see that yellow plastic thing in the corner of my photo above? It's a miter box.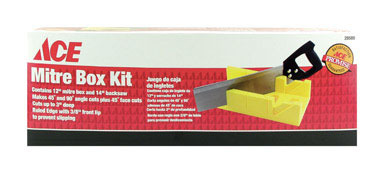 This handy little guy will run you $10 and is your best friend for angled cuts that must fit together, otherwise known as mitered corners (unless you are fancy with your compound miter table saw that you requested for Christmas and now are a little bit afraid of so it sits in the box until you figure out how on earth to use the thing ;)
I wandered the molding aisle at Home Depot until I found some that I thought was about the right thickness to match the depth of my cork+cardboard combo. I think what I got is technically considered base molding, like similar to this. I cut 8 of these down to my desired size with the ends at 45 degree angles.
I needed the cork board to be in place first, so I actually nailed right through it in numerous places using nails with tiny nail heads so they'd be less visible (and remember you're eventually plastering this thing with clippings, so we don't have to be fussy about it.) Then up went the trim pieces, nailed to the wall using the same fine finish nails. I don't have a brad gun for shooting nails under pressure, but that is the next tool I want to add to my tool collection!
I was NOT worried about perfection with my mitered corners, because that's hard to achieve with a hand saw. You can see how imperfect my corners are...
And how some spackling paste fills it right in...
Once the spackle dries it's easy to sand smooth and paint over, which is what I did. First I filled the tiny nail holes, then painted the entire frame with white semi-gloss.
Board in progress....(and a glimpse of the storage door that eventually became a dark and glossy navy blue beauty with DIY molding...that tutorial still to come!)
And the finished product...