In keeping with the gold and brass tones in my (soon-to-be-revealed) holiday tablescape, I collected a dozen vintage gold tone brooches for $2-3 apiece from ebay and local thrift stores to turn into one of a kind napkin rings.
A quick ebay search also yielded a dozen plain brass napkin rings...I like trying ebay first because you can often score solid metal rings for next to nothing, but in a pinch these plain wood rings cost less than 50 cents apiece and are easily painted.
The project was a cinch and took about half an hour. I used a hot glue gun to affix each brooch to a napking ring (I removed the pin apparatus first just by bending and snapping it off.)
I love how the gold pops against the navy hemstitched napkins. For a slightly more modern and less fussy look I simply rolled the napkins rather than gathered them "fan style"...although I do like the "fan" look too.
The hemstitched napkins, by the way, are from my favorite ebay store for table linens. They've got napkins and table runners in a huge variety of great colors. They're cotton, not linen, so they're quite reasonably priced too (a dozen napkins for $3 each once you factor shipping.) Not bad for something that usually runs minimum $5-15 a pop.



Even better, they sell a true linen-cotton blend line in these soft, muted tones, and the quality is obviously a cut above their plain cotton line.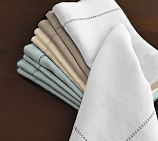 And for SOME reason ( I almost don't want to mention it out of fear that they'll change it) these gorgeous table runners are only $3 apiece (!?!)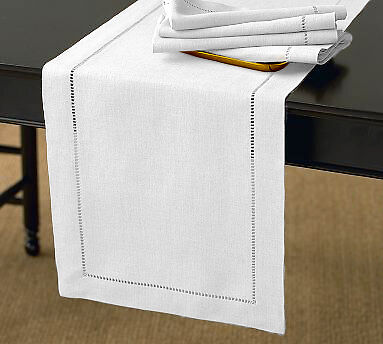 I've bought many of these as hostess gifts, for myself included! My dining table is a giant oval, so rather than using placemats which don't fit the table shape, I like to drape 2 runners over the table crosswise, like so...
I'll be back with more table details and then the big reveal on Friday and you won't want to miss it!