I'm working on a client living room and our palette is going to be warm neutrals punctuated with brass and rich, deep navy blue accents. Something like this...although we haven't ironed out every little detail just yet...
ROSA BELTRAN DESIGN
Here you see a couple of different rug options and I like both, although I think we actually be taking a different direction altogether and using this "overdyed" oriental-style carpet that's made to look very antique and faded and worn:
The sofa will be an RBD original and I'll design it to look a bit different, more stylized, in a champagne tone velvet. The beautiful warm grey media console is by Layla Grace and is our main splurge in the room. I feel like good looking media cabinets are really hard to come by at a lower price point, and it's always such a big feature in a room, so it's a tricky one for me!
I did consider using two of these quite affordable CB2 media cabinets with their pretty and warm wood veneer...at that price I would even change out those legs that I think are kind of ugly for a different style.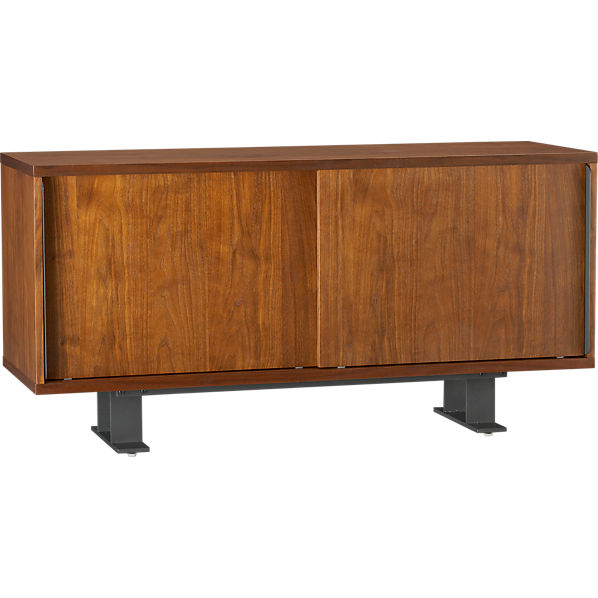 What you can't tell from the mood board is that we're planning to have an incredibly luxe, tailored, ahhhhmazing caramel leather tufted daybed in the mix. Much like this one, but in leather....oh it's just SO good:
NATE BERKUS
Remember this post when I was ruminating on using a daybed in the living room? I think it's the perfect way to tie in a third seating area if you have a loooong living room and you need to activate the whole space with cozy furniture groupings.
SO, situated facing one another in front of the fireplace will be the champagne velvet sofa and the caramel leather daybed. And in front of the windows will be another seating grouping, a pair of navy blue club chairs, which won't feel left out at all because the daybed doesn't have a tall back that makes the room feel divided at all. Capiche? Here's the floor plan:
The half circle next to the fireplace is meant to be a beautiful burlwood antique chest I came upon that will repeat the warm caramel tone of the daybed. It's sooo pretty and will make such a swanky bar!
Those are all the big pieces...the rest of it is the frosting. Although you should NEVER underestimate the importance of those details. They're not superfluous...they're integral to making a room work! Who was it...Eames?....who said "The details aren't the details. The details make the design." I don't care how good your big pieces are, if you skip or skimp on layering in all the art and accessories, your room will fall very, very flat.
Our yummy details include brass-accented lighting all around the room (you should always have light coming from many different sources...that's what creates a really good ambiance), plenty of objets d'arte in the built-in bookcases including more caramel leather in the form of antique books, and a gallery wall of art surrounding the flat screen TV, which in my opinion is one of the best ways to detract from the big black screen. Because let's be honest, we've all got one, but who wants to feature the tv in their living room? You want it to go away, to recede into the background, and hanging a gallery wall of some sort around it is a great way to make that happen.
Can't wait to show you the finished product!