I had a fun, young bachelorette client with a vintage 1930s LA apartment who basically gave me carte blanche with the decorating to go as glam and girly as our hearts desired. Needless to say, we had ourselves some fun. Lots of black and gold, with shots of pinky-coral, and a very Dorothy Draper-esque Hollywood Regency vibe throughout. I loved this project!
For wall art in the living room we scoured ebay for vintage fashion ads and glamour mag prints from the 20s, 30s, and 40s, which we then hung gallery style in a mix of black and gold frames. The gold frames with the rounded corners lend a very swanky, art deco feel, and look great mixed in with standard black frames.
So here's my secret...the rounded corner frames are just the Ikea Odby that I sprayed gold. They only come in white, which is a much more mod look that works in some settings, but I actually like them better in gold...I think it suits their shape perfectly.
I didn't worry about the odd-fitting matts (you know how all Ikea frames have Euro size openings that don't exactly fit our standard 8x10s, 5x7s, etc) because when framing something like a vintage magazine page, a bookplate, a watercolor with natural edges or something of the like, floating the art in from of the mat works to highlight the authentic, interesting edges.
Here are some more clever uses of the Odby that I came upon doing an image search.
I love that they make an extra large size...great for framing BIG photos...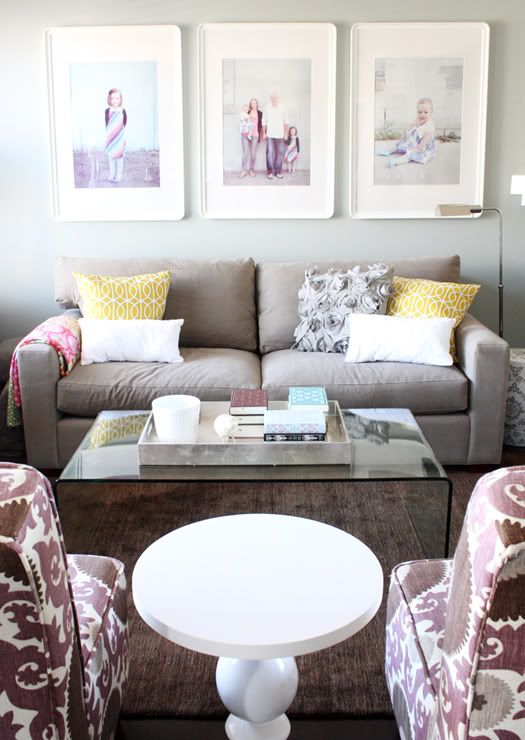 Or for turning into a gorgeous vintage-looking mirror (although the large size in particular comes with plexiglass because it wouldn't support the weight of glass, so you'll have to lean the mirror like this if you swap out the plexi for mirror...and go thin)...
They also come in a square version, which are always a great shape to mix gallery-style with other rectangular frames...and they'll work for your instagrams!


Ikea display
Art in a very sweet nursery...
An ingenious DIY tray idea (using not-so ingenious materials...but imagine the tray black, or yolk yellow, or poppy orange with a fantastic coordinating paper or fabric print...)
Like one of these perhaps?
And these brass cabinet pulls for the handles...
Have a great day!