Have you seen the new Jonathan Adler line of home decor for JC Penney? For those of us who like a little Greek Key motif now and then, there's a lot to gawk at.
I'm loving the line of dishes and servers....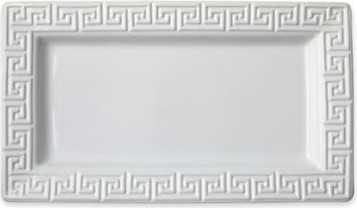 As well as some of the curtains....
If you read this post on linen curtains you know I'm not a big fan of tab top panels, but I would add some drapery hooks and rings to any of these panels and be in business!
Surely one could find some great use for these little lacquer pedestal stands...lamp bases? Bookends? (Especially when mounted with a heavy bust, foo dogs, or carved marble statues of some sort.) Of course they could be sprayed any finish including brass, so the possibilities are kind of endless...
Nothin' wrong with a classic navy lacquer tray...
Barware...again, love the navy...
Some pretty accessories for some pretty good prices!