LA has one of the most eclectic and broad-ranging collections of significant and varied architecture of any American city. Granted, it's not the first destination that generally springs to mind when one thinks of grand architecture, but when compared with the usual lineup (Paris, New York, London, Brussels, Chicago, etc) LA truly does possess a great number of laudable buildings that encompass an impressive variety of different styles and eras. (When Moby relocated from NY to LA he started up his own LA architecture blog to counter the skepticism of his NYC friends about the "cultural backwaters" of LA. Not so. Not so.)
One of my favorite ways to explore LA architecture is through the LA Conservancy, and particularly their docent-led walking tours of the downtown core. I'm a member and supporter of the Conservancy, who work tirelessly to save significant LA landmarks from careless remodels or demolition. So I wanted to take a sec to toot their horn and show you my photos from one of my favorite tours they give, the downtown Art Deco Walking Tour. If you live in LA and haven't been...GO!! And if you're visiting LA then for god's sake do yourself a favor...skip the seedy and over-hyped Venice boardwalk and tour stunning downtown architecture instead! It's just no contest.
My very favorite downtown art deco gem is the James Oviatt Building. The foyer is completely clad in incredible geometric frosted glass designed by Rene Lalique and a couple of other renowned French glass artists. (I won't go on and on with all the historical low-down here...save it for the tour.)
A close second in terms of my favorites: The Eastern, covered completely in glistening aqua green terra cotta tile. It wows.
The Southern California Edison building was the very first completely electrified building in the Western US, and one of the first in the world. Here's a vintage photo that still hangs in the corridor ...
The ornamentation above the entry doors depicts rippling water and the rays of the sun...
The LA Public Library has a gorgeous mosaic-ed inner dome and the most magical children's wing I've ever seen...I didn't take any interior photos on this day, but you owe yourself a visit to the library...it's a stunner.
This doesn't even come close to covering all the buildings you will see on the tour. And Art Deco isn't the only thing going...other favorite tours are the Historic Downtown tour focusing more on neoclassical style (think old world European, greek columns, etc.) and the Broadway Theaters tour, which gives you a glimpse into LA's storied but now mostly defunct movie palaces. All tour info
here
.
Parting shot...remember the movie "500 Days of Summer" when the two lovebirds sit on a park bench overlooking the downtown skyline and the young architect points out all the buildings he loves?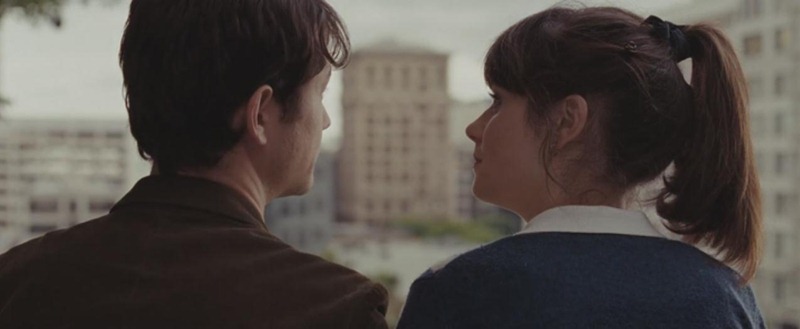 500 Days of Summer






Y

ou can end your tour on that same bench in Angel's Knoll Park, taking in the pretty views for yourself. Gather a picnic to nosh on right at the base of the hill at

Grand Central Market

, LA's big open air food and produce market that's been there since 1917. It's kind of like a mini Seattle Pike's Place or a San Fran Ferry Building. And I'd guess that HARDLY ANY ANGELENOS KNOW ABOUT IT!
Have a great Monday...